Uni Lids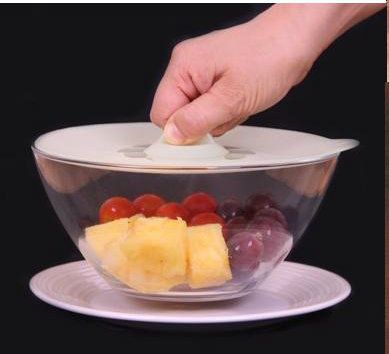 This high quality food grade silicone suction lid creates an air tight seal on bowls and saucepans.
Suitable for use in the fridge, freezer, microwave, on saucepans on the hob or in the oven.
Fridge/freezer: They are ideal for food storage in the fridge or freezer, creating an air-tight seal.
Microwave: Perfect for use in the microwave to cook or reheat, simply place the lid directly on the container, there is no need to balance or pierce holes in it! The lid will self vent as it cooks.
Saucepan: Use as a saucepan lid, again place lid directly on the saucepan, no need to balance, the lid will self vent. Use less water and less heat for perfect cooking. Frying Pan: Place lid directly on food such as bacon, keeping it flat. Crack an egg into a non stick pan, add a couple of tablespoons of boiled water from the kettle, place the large uni-lid onto the pan and your egg will cook top and bottom in 3 mins - the healthy fried egg!
Oven: Heat resistant in the oven up to 220c, Gas Mark 9.
Dishwasher safe.
The Uni Lids come in either a box set of four, one of each size 28cm 21cm 15cm 11cm
Or a large set of 2 (21cm & 28cm) or a small set of 2 (11cm & 15cm)